RACE INFO
Looking for a great fall race? Look no further than the Gobbler Grind! This race features four great distances! 5K, 10K, Half Marathon, Marathon and new for 2021 the Marathon Relay for 3-5 runners. We have a race to fit your training schedule and get you ready for the feast of all feasts -Thanksgiving!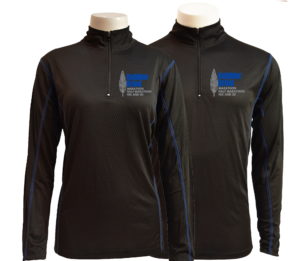 A semi-flat, easy route through the woods on paved trails.
Date: Sunday, November 7th, 2021
Location: Paved trails & roads in Corporate Woods, Founder's Park across from Building 40, 9401 Indian Creek Trail, Overland Park, KS 66210

Start Time: 7:30 AM: Marathon, and Marathon Relay, 7:45 AM: Half-Marathon, 8:15 AM: 10K and 8:30 AM: 5K
*See individual race pages for further detail on course, pace, and aid-stations.
Registration and Pricing: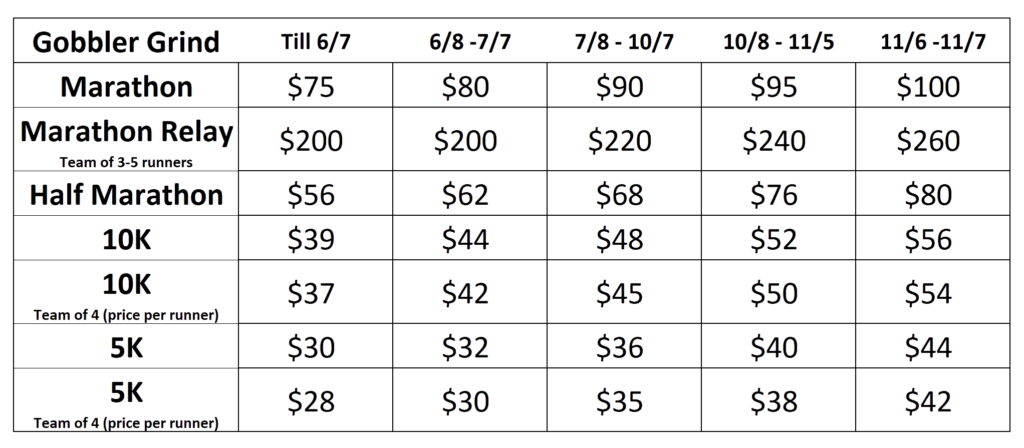 Download Marathon Team Relay Instructions.
Parking: Parking is available in the adjacent parking lots at Corporate Woods.
Stollers/Dogs/Bikes: For your safety we do not allow dogs, skateboards, inline skates, or bicycles.
Refund and Cancellation Policy:
Registration fees are not refundable under any circumstance. Race registrations can be transferred to another participant or to another distance. Save your login so you can do this yourself.
If this race is cancelled for any reason, all registered participants will automatically become virtual runners. If the race is postponed, all participants will be registered for the new date. Shirts, medals and swag will be available for pick up.
Registrations cannot be transferred to another year or another race.
The Race Director reserves the right to modify or cancel the race or course for safety concerns, road condition, permit concerns or natural disaster. Each athlete must accept this risk of their entry fee paid. Registration fees collected are used to develop and produce the event, starting in advance of the race date, including course preparation, race supplies, permits and administration. Every effort will be made to produce a fair and safe event for all participants. Any decision made that impacts the race date or potential cancellation is carefully considered and based on the overall event safety, sustainability and manageability.
If you want to be guaranteed a refund, purchase race insurance for yourself. Travel insurance companies will cover your race registration and any travel costs you might have.
Weather: The event will not be cancelled because of rain, snow or extreme temperature. If there is lightning, the event will be postponed for a minimum of 10 minutes until no signs of the storm are present. Participants should seek shelter in their vehicles or a nearby building if available. If lightning continues 30 minutes after the scheduled event start, the race will be subject to cancellation. The race will be canceled in the event of a tornado warning.
For more information please contact info@resultskc.com
History: The Gobbler Grind was started in 1994 by Mike English and other employees from Garry Gribble's Running Sports who thought it would be fun to plan a race between two stores. At the time, paved running trails almost connected the Ward Parkway store and the Overland Park store at Stoll Park. The trails were measured and it was easy to make it into a marathon. The name Gobbler Grind was chosen to differentiate from all the other "turkey" races in the fall. The first was won by Eric Peters. As time went on the location was moved, but the race remains a tradition for runners in the Kansas City area.