5K
RESULTS: Click here
START TIME: 8:00 AM
WHERE: Founder's Park that Corporate Woods, across from Building 40, 9401 Indian Creek Trail, Overland Park, KS 66210
COURSE: The Gobbler Grind 5K is semi-flat, and runs on paved trails of Corporate Woods. USATF Certified Course #KS20015TJD. New certified map coming soon

ENTRY FEE: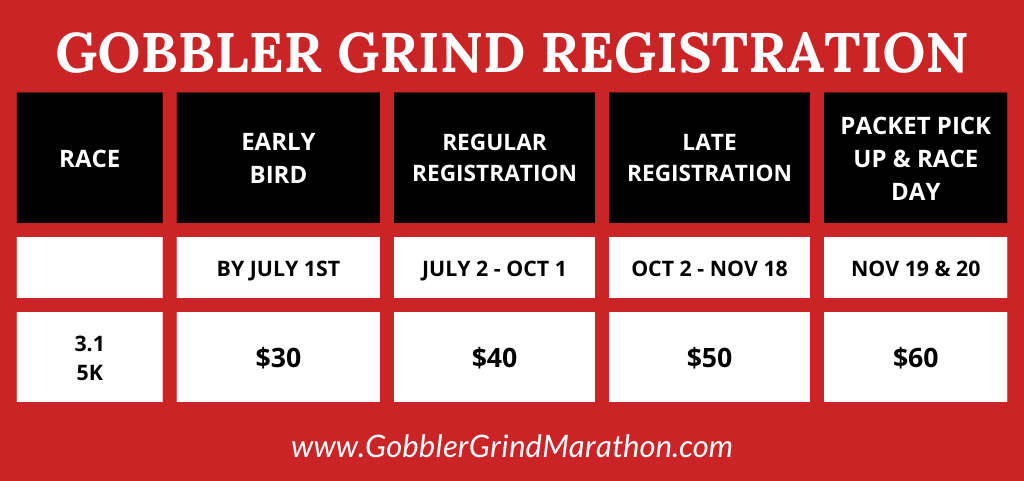 SWAG: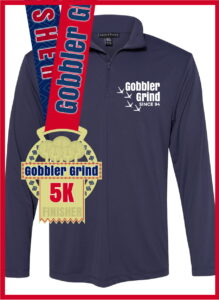 All 5K participants will receive: Gobbler Grind long-sleeved running shirt, finish medal, post-race refreshments, chip timing, free race photos, and discounts / giveaways from sponsors!
A race hoodie can be added for $35 at registration!
TIMING, RESULTS, & RUNNER TRACKING:
The race will timed using bib timing chip technology. Participants can opt-in to receive live tracking, and updates post to Facebook, Twitter, or SMS Text Message when these register for race.
Sign up for live tracking HERE.  Live Results featuring video and photos will posted HERE after the race.
AWARDS:
Awards will given each distance to top three male and female finishers overall, as well as top three finishers in follow age groups: 14 & under, 15-19, 20-24, 25-29, 30-34, 35-39, 40-44, 45-49, 50-54, 55-59, 60-64, 65-69, 70-74, 75-80, 80+
The Awards Tent will be located within the Finish Line Festival area close to the DJ. If you placed in the top 3 overall or in your age group their Awards Tent immediately to claim your award. Don't even have time for that? Friends can pick up awards for you. Awards will not be mailed.
If you are unable to pick up your award at race, email runnersedgeracing@gmail.com know you want your award.
Virtual Runner:
If you cannot run the race because of a family emergency, a change in work schedule, or a stuffy nose, you don't have to worry about forfeiting your registration fee, shirt and finisher medal. A virtual race is one you run yourself, where you want and when you want. If you have not already registered as a virtual runner, email runnersedgeracing@gmail.com to let us know so we can switch your registration.
If you are participating in the race as a virtual participant, you or a friend can pick up your packet, shirt and finisher medal at packet pickup. Tell the volunteers you are a virtual runner and look for the Virtual Runner sign. We will have your packet pulled ahead of time.  DO NOT GO TO A COMPUTER to have a bib number assigned to you! Complete the distance whenever and wherever is convenient.
If you are unable to pick up your packet before the race, email runnersedgeracing@gmail.com to let us know you want your packet. If you did not originally sign up for the virtual race but need to switch to the virtual option, emailrunnersedgeracing@gmail.com as soon as possible or let us know at packet pickup.
Refund and Cancellation Policy:
Registration fees are not refundable under any circumstance.  Race registrations can be transferred to another participant or to another distance.  Save your login so you can do this yourself.
If this race is cancelled for any reason, all registered participants will automatically become virtual runners. If the race is postponed, all participants will be registered for the new date.   Shirts, medals and swag will be available for pick up.   
Registrations cannot be transferred to another year or another race.
The Race Director reserves the right to modify or cancel the race or course for safety concerns, road condition, permit concerns or natural disaster. Each athlete must accept this risk of their entry fee paid. Registration fees collected are used to develop and produce the event, starting in advance of the race date, including course preparation, race supplies, permits and administration. Every effort will be made to produce a fair and safe event for all participants. Any decision made that impacts the race date or potential cancellation is carefully considered and based on the overall event safety, sustainability and manageability.
If you want to be guaranteed a refund, purchase race insurance for yourself. Travel insurance companies will cover your race registration and any travel costs you might have.
Weather: The event will not be cancelled because of rain, snow, or extreme temperature.
If there is lightning, the event will be postponed for a minimum of 10 minutes until no signs of the storm are present. Participants should seek shelter in their vehicles or a nearby building if available. If lightning continues 30 minutes after the scheduled event start, the race will be subject to cancellation.
The race will be canceled in the event of a tornado warning.
If you have any questions email runnersedgeracing@gmail.com.