HALF MARATHON
START TIME: 8:30 AM on November 1, 2020
WHERE: Founder's Park in Corporate Woods across from Building 40, 9401 Indian Creek Trail, Overland Park, KS 66210
COURSE: The Gobbler Grind Half Marathon is a USATF Certified Course (#KS09080BG), with half of the course on the road and the other half on a scenic, paved trail.
Entry Fee:

*check out our AMBASSADOR PROGRAM for a chance to earn a free entry and other perks!

CUT OFF: The half marathon has a 4 hour cut-off time.
SWAG: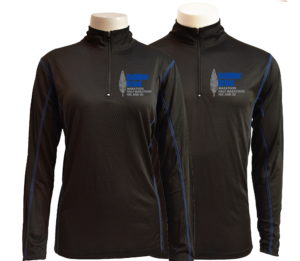 All 1/2 Marathon participants will receive:  a long sleeve quarter zip running shirt, finisher medal, custom bib, post-race meal, chip timing, free race photos, Smart Pacers, and discounts/giveaways from our sponsors!
GEAR CHECK:
On race morning, participants may check gear at the designated gear check inside the packet pickup area between 7 and 8:30 am. Gear check bags must be clear plastic and be labeled with your bib number, name and contact information. Bags that aren't see-through will not be accepted.
Do not check any valuables. We are not responsible for lost items and/or gear check bags. Bags can be claimed after you cross the finish line at the retail sales and shirt exchange booth, inside the finish line festival.
Gear check bags not claimed by 1 pm on race day, will be taken to the Race Day Events office at 208 West 79th St, Kansas City, MO 64114 for pickup and may be claimed starting Tuesday after the race.
AID STATIONS:
Will be located approximately every 2-3 miles along the route and will have water, sports drink and snacks at alternating locations. There are toilets at every aid station.
If you are unable to finish due to time and/or injury, please stop at the nearest aid station and we will arrange transportation back to the finish for you.
TIMING, RESULTS & RUNNER TRACKING:
The races will be timed using bib timing chip technology. Participants can opt-in to receive live tracking and updates via Facebook, Twitter, or Text Message when they sign up for the race or through THIS LINK.
Live Results featuring video and photos will be posted after the race.
PACE GROUPS:
We are happy to provide SmartPacing pace groups! Be sure to join the right pace group to increase the likelihood of achieving your time goal (or at least to enjoy some companionship) Meet your Pacers!
AWARDS:
Awards will be given in each distance to the top three male and female finishers overall, as well as  the top three finishers in the following age groups: 14 & under, 15-19, 20-24, 25-29, 30-34, 35-39, 40-44, 45-49, 50-54, 55-59, 60-64, 65-69, 70-74, 75-80, 80+
The Awards Tent will be located in the Finish Line Festival area next to the Results Tent. If you placed in the top 3 overall, or in your age group, come to the Awards Tent to claim your award. If you need to leave before awards are announced, we are happy to give you your award early.
Don't have time to get your award? Friends can pick them up for you. Any awards not claimed at the race, can be picked up starting the Tuesday after the race at the RaceDay Events office, 208 W 79th St, KCMO, 64114. Email us at info@resultskc.com before you stop by.
REFUNDS/CHANGES:
No refunds will be given for the event.  However, we will allow you to drop to a shorter distance at no charge.  You may also switch to the Virtual Race option or transfer your registration to another person.  We will run in rain, cold, or snow. If there is thunder or lightning, the race may be delayed until it passes. If the race is canceled in the event of unsafe weather or other unforeseen conditions, no refunds will be given.  You must notify us prior to race day to make any changes or transfers.